Mrs. Sexy is a smart, witty and erotic true story of a married woman's transition from monogamy to becoming a Hotwife. A Hotwife is permitted to have sex outside of marriage as long as the husband is fully told of all details and often involved in their threesomes. After 25 years of dedication to one another, a 42 year old fun, sexy couple embark on sexual experimentation involving strippers, three ways, and lovers on the side.
Check out the blog on our website for current stories, photos, scenarios and amusing messages!
From my recent blog post "Koo-Koo-Ka-Choo Mrs. Robinson- Play Time with Ty"
"I climbed onto young Ty, straddling him, and reached behind me to grab his cock. I first rubbed it on my wet pussy and then slowly put the head in my ass. I took it slowly, as I prefer with anal. He didn't seem to mind. He would fondle my breasts and lean his head back, gently moaning as it went in further. He was so handsome to watch as I fucked him, so I was pleased to be on top, watching him as we fucked. I had his cock positioned just right for my pleasure before I started to ride up and down on my young lover. His "fuck" utterance changed to "holy fuck" as he seemed quite pleased with this new adventure."
Take a look at this eye-opening story today! Click on the book cover images to order today on Amazon!
"mrs Sexy" By Juliet Adelaide
From Chapter 10- The Broadway Bums
Nick was full of double talk that night. I always felt that he was mostly honest with me. I knew of his adventures with other women, but at least he had always seemed truthful. He was starting to tell me that he was perhaps getting serious with a woman… as he was kissing me. Then he was undressing me. We talked as we fooled around, it was a bit odd. I straddled his cock and asked if this is like a farewell fuck then. He said no and laughed, but I knew that I was right. It was actually quite nice. He seemed to enjoy me sucking his cock and fucking me more than he did the previous week. He fucked me from behind and, knowing it was probably my last time with Nick, I rubbed myself to ensure I came with Nick one more time, and I did. He came on me again and another white t-shirt was used for clean up. No wonder his t-shirts are always wrinkled.
Mrs. Sexy is a terrific novel, very engaging. You won't want to put this book down once you start! The stories are real life, which make them all the more exciting. The book is more than a standard erotic book, it dives deep into the woman who is branching out and exploring being a hot wife, not just the sexual side but the relationships that come with it.
A must read!
Chris Cameron
mrs Sexy – Under the Influence" Book 2 of the "mrs Sexy" series is available on Amazon! Click below and check it out today!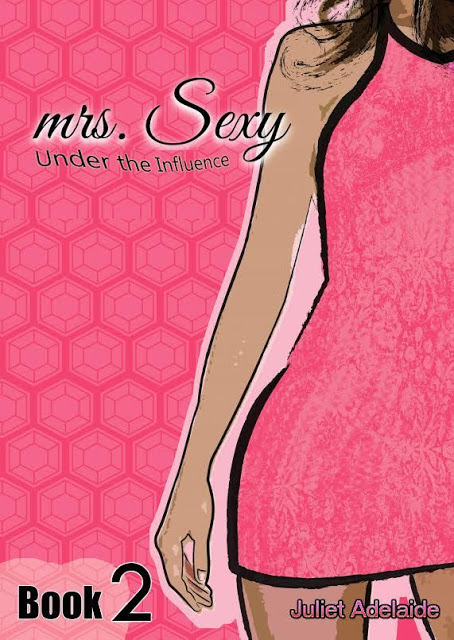 "mrs Sexy – Under the Influence" Book 2…
From Chapter 1- Mr. Irresponsible
Before I knew it Max was flinging my panties across the room and going down on me. He seemed more into it than usual. He was attentive and took his time, somewhat unusual for him on the pussy eating end. I came. He was elated. He seemed so proud of himself. It was cute. He told me that he really wanted to do that, and that he kept thinking about what my husband would do. I laughed. I got my ponytail holder off the nightstand and started sucking his cock, and he told me that this was his favorite part of the week. He was soon pulling me back up to him and he laid me on my back with a pillow under my hips. He put a condom on without really complaining and looked at me as he entered me. He was really hot to look at during sex. He looked very intense and stared me in the eyes a lot. I liked that. He kissed me and fucked me like this for a while. He decided that he wanted to flip me over but not totally up on my knees. The pillow was under my stomach now, and he wanted me to just lie flat as he entered me again. He was soon cumming inside me, and then laid down on top of my back for a bit. He held me, he kissed me, and then he suggested that it was early enough, we could go grab a quick drink at the dive bar and come back to cuddle more.
Girls.. just want to have fun. Buy this book. Very entertaining and stimulating. Enjoy.
Judy McDowell
"mrs Sexy – It's Complicated" Book 3 of the "mrs Sexy" series is now available on Amazon! Click below and check it out today!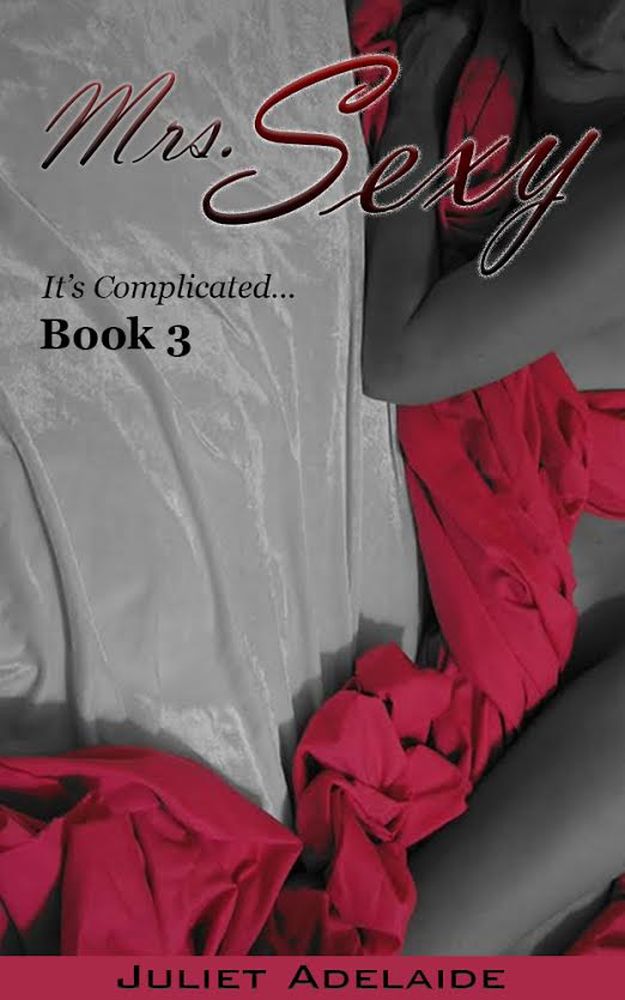 "mrs Sexy – It's Complicated" Book 3
From Chapter 22- Max Distractions
As soon as I arrived at Dylan's, he led me to his room by the hand and then made me face and lean against a wall in his bedroom. He pulled my dress up and slid his fingers underneath me to rub my clit while gently biting and kissing my neck. He pulled my dress over my head and I asked him if I should take my boots off. He said to leave them on and then got back to talking and telling me what he wants to do to me. He brings up fucking me in the ass and his desire to do it. Nothing is really decided, he just likes to talk about it.
He soon sits down in a chair, in his room and tells me to suck his cock. I kneel down between his legs and am told that I have to tell him that I really want to suck his cock. I say it before wrapping my lips around it. I take his cock deep into my throat and move it in and out as my mouth starts to moisten up. I spit on the end of his suck before sucking it eagerly. He moans and talks before bringing up the matter of sending a picture to hubby. I think my husband would like that. I grab my phone and Dylan takes a couple of shots of me sucking his cock which I send off to hubby.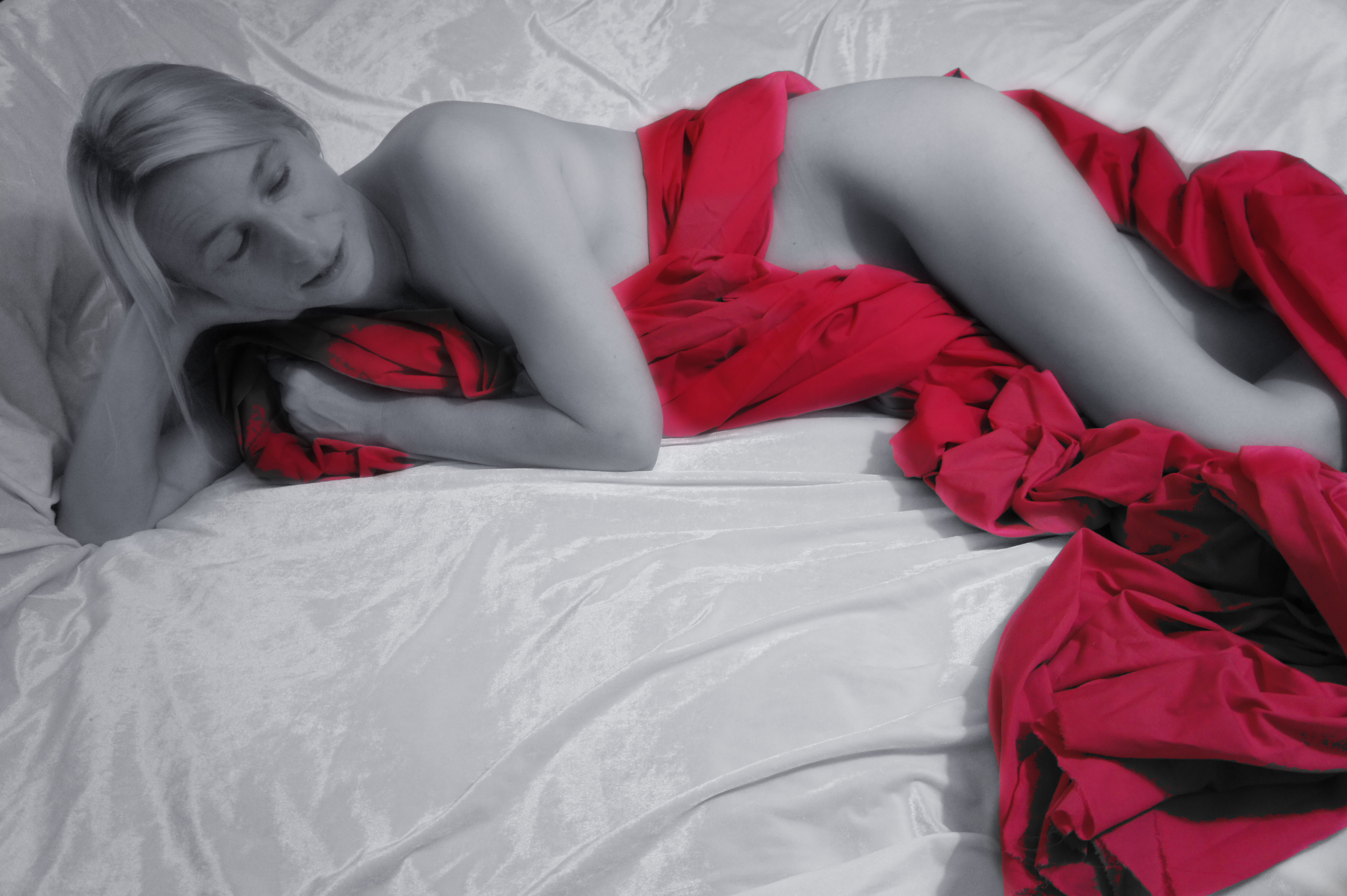 I was very intrigued by the premise of the story, and it didn't disappoint.  I found myself reading it all in one day because I had to know what happened next.  I love the characters and really hope that Mrs. Adelaide continues the story.  Bring on book 2!
Samantha Damiens
ABOUT THE AUTHOR
Juliet Adelaide has a Bachelor's degree in Humanities and Culture from Arizona State University.   She started dating her husband at the young age of 17. They lived together while she attended college and often even worked at the same job.
Juliet and her husband have worked in restaurants, hotels, and the travel industry together. Whether at home or at work, they always had fun and were always admired for the strength in their relationship. Quite simply, they are best friends. They have faced the same struggles as everyone… occasional financial problems, family members with addictions, work issues and loss of loved ones. Whatever challenge comes their way, they have always had each other to turn to.
After they were married, they spent all of their free time traveling with a particular love of France. They are a devoted couple who only recently opened their marriage to new sexual experiences. mrs Sexy is Juliet's first book, and she takes you through all of the most personal moments of her adventures. Book Two mrs Sexy- Under the Influence and Book 3 mrs Sexy- It's Complicated are also available on Amazon!
I was going to give this book a few paragraphs at least, before I assumed to store it away with the other junk that sits in my room. I am not really a big reader but was promised an entertaining story and a quick read… and sure enough I was impressed at my own desire in wanting to read more. I finished the book in two days, and that never happens. This almost feels like a story telling or a blog more so than a novel written by a professional author. For example, like if a friend emailed you about a ridiculous  situation they got into the previous night. That is the tone I got out of it. To my surprise this book was also hilarious, I expected more of a kinky, porno effect but in fact got a good mix of that as well as constant laughter due to the absurdity that these guys went through in search of sexy adventures.
Nate Ryder
"When I arrived home, I knew that there would be a reclaiming process. My husband would have to take his wife back. He didn't know what had transpired between Nick and I. I was a bit worried, but as long as I told the details, I would still be abiding by our hot wife agreement."
"mrs Sexy" copyright 2015
Sophie Avett's review
Best Selling Author of the Darkest Night
Aug 31, 15
Recommended for: anyone who enjoys non-fiction erotica
A Critical Review of Mrs. Sexy by Juliet Adelaide by a Naughty Author
So, let's start from the beginning…
Plot – We're reading erotica here. We also have the privilege of reading non-fiction here. Therefore, the plot is the characters. For this specific book, it's about a woman and her journey into becoming a "hot-wife." It's written in a journal format with splices of original erotica pieces (originally meant for, and sent to, her lovers). Juliet is a modern, successful forty-two-year-old woman with a loving husband and everything short of the goddamn American dream. She's not unrelatable, though. She works at home, she's suffered dealing with family members with addictions, she smokes, and gets annoyed at normal shit – she's a regular person… except she's transitioning into a "hot-wife."
The story opens with a brief explanation of what hot-wifing is, and from the start, the author is very clear that her reasoning for wanting other lovers has nothing to do with being dissatisfied in her marriage. She is very much in love (and in lust) with her husband (who sounds like one kinky son of a bitch and seemed to be the only one in the book with a lick of sense sometimes). They've been married and happily so for almost twenty something years – their marriage is probably older than I am right now. Her decision to seek other lovers is about sexual empowerment and experimentation.
It's about being a middle-aged woman in a society where we separate women's desirability into age specific categories like MILF, Cougar, jailbait, school girl, etc. And immediately, you understand that about Juliet. You understand her reasoning for wanting this has a lot to do with personal growth. Of course, there's an aspect of fun, and her husband's enjoyment is a factor as well. But it's mostly about finding new and better ways for Juliet to be a happier person. I respect their intentions, I really do. So I was very excited to read her adventures.
Characters – Instantly likable and immediately relatable, Juliet writes about her experiences from the start of her adventures to what I assume is an image of "present day." Her adventures take the form of four outside lovers, threesomes, and her husband's reclaimings. The rules were: her husband had to know everything that went on with other lovers, she had to be home at the appointed hour, she must include her husband in any threesome, and she was to be immediately reclaimed when she returned home.
(There were also some odd D/s notes in there but she never made specific mention of anything regarding BDSM – but that's exactly how it reads. It reads like her husband plays "Dominant" and she plays "submissive.") For what it's worth, her husband seems like the only actual adult in this book at times, and his reactions were always mild and completely understandable given what the hell he was dealing with in his wife's lovers.
The first lover we meet is Nick. This is one of those guys with that infernal "rake" complex that I adore so much. Basically, he's a hot mess, but he's a live wire. He doesn't really seem to have a direction (regardless of having a degree, etc.) and – you know, he kind of reminds me of what happens to a guy that can't commit to anything, but is too cowardly to really admit that to himself or anyone else. There is also a level of mystery to Nick that suggests he's not actually what he seems on the surface. Like he plays stupid, rather than actually being stupid.
Also, he happens to seem like an intentionally shitty liar. I mean, can anyone wail deadbeat "bad boy" or have I painted a clear enough picture? And yeah, Juliet can't resist him and proceeds to fuck him in the back of her car on the first "date." (And frankly, I kinda understand. Who doesn't want to fuck the "stoner bad boy?" Except maybe me, but I have personal issues with that archetype. Like "listen, scavenger, I can't be sharing my weed like that" issues.)
What's interesting is that I understood why she liked him – I understood why she did this, I understood what she was looking for, and what he was giving her just by being exactly who he was, i.e. Mr. Wrong. Sometimes, a woman just wants to be reminded that she is, in fact, the fairer sex, and damn, that's reason enough to me. And it was stimulating to read her terse and concise descriptions of the erotic events. Including her reclaiming, which happens immediately after she returns home.
After we're introduced to Nick, we take a detour to meet Dan…
Dan was her first experience into hot-wifing. Dan and Juliet met via a communication ad on Craigslist. They had an intense connection, exchanged emails, pornographic pictures and videos, and elaborate erotic scenarios. He never could seem to get comfortable with the idea of the husband's participation though – and after one passionate encounter (out of a few awkward ones), he simply disappeared. He was the kind of guy that I can see being very romantic, very receptive – but also incredibly passive aggressive at the same time. He was cowardly but his sentiments toward Juliet were more in vein of an actual lover than the other boys.
While Dan seemed to appreciate Juliet's mind more than anything, he seemed to struggle over having to share her for emotional reasons, and wrestled with having to play second when it was clear that he cared for her in a way that was… heightened. Though it's never really said (as she can never really know), I believe he was seriously conflicted and that he left Juliet that way in an effort to disengage from what was becoming an emotionally negative situation for him. Basically, that asshole showed up to the game without understanding whether he wanted to play or not, and then walked off field in the middle of the third inning without saying shit to anyone. Romantic. Coward.
It took her five days to get over him and start talking to better prospects…
Chris is a man she met online; he's experienced in having casual sex with couples. He's stable, has a nice job, a nice house, drives a Hummer, and is a genuinely good person, but he's more of what she already has in her husband. It doesn't help that they don't seem to have much in common beyond "pretty good" sexual chemistry, and he pretty much worships the ground that she walks on (without making it romantically weird). She admits that Chris was the safer and better choice, that her husband appreciated how he treated her, and he was a very good (and attentive) lover. Chris was pretty much everything a girl wants in a husband – not necessarily who she wants to get smashed by on a Friday night after she's had a few.
The whole point of this experiment was to feel desired and Chris made her feel appreciated – not "fuck-me-more" hot. I will even go on to say that Chris was the guest in her most balanced threesome, but that doesn't seem to make him any more desirable. He's a good man and a good default. And again, that makes sense to me. That's like making fried chicken every night at home and then going out to a fried chicken restaurant – of course, the food was good, but no matter how good it is, it's still fried chicken. It's still…familiar. So for most of the book, he was pretty much on standby and kind of used to keep her from feeling too bad about her shit-head younger lovers.
And we're back to the Broadway Bums. Nick is Nick. He eventually pawns her off on his best friend in the most RIDICULOUS way possible. Again, in a cowardly attempt to disengage without having to say, "I don't think I want to fuck anymore now that you're into my bro. It's kinda like you're fucking him – and that's a bit much for me." I think Nick enjoys sensuality, but I also think that he is emotionally unavailable and terrible at handling conflict. He only started half-way really talking to her when he became the messenger between her and his best friend. It's like as soon as it wasn't his ass under the gun, he was more than happy to be there for her as a platonic shoulder to cry on, while she was worried over the guy they refer to as Werewolf Max.
Werewolf Max is a classic Poseidon. At first, he came off like he had his shit together more than Nick, but he doesn't. He just looks that way on the outside. Max is a guy that loves to interact with people, he's a guy that hates being alone, he's a guy that's obsessed with music. The type of guy that will be really shitty to a girl, and then, turn around and compose her a breathtaking ballad. His mood swings are intense, he has an addictive personality that turns him into a raging asshole, and he tends to live in his own reality. Yep, the classic artist/abuser archetype. Of course, he's gonna be a great lover. His level of sensitivity (which shows in his constant kissing and passive aggressive mentions of other woman he's dating) is a goddamn tidal wave.
This is actually what a guy like James Dean was made out of. He's a fucking mess, but he's so damn charming that people seem to forgive him because of his ability to make them feel a very unique way. He makes everyone feel like they're number one because, at least right then, they kinda are. What a little pea brain. I understand that he's a functioning alcoholic, I understand that he somehow managed to be even more irresponsible than Nick but somehow also ended up caring for Juliet in a way that Nick didn't, I also understand that she didn't expect him to become a steady lover. And frankly, I can empathize that she is aware he's a different version of Mr. Wrong, but she can't help herself – she cares for him. And goddamn it, I understand, girly. I'm a sucker for those assholes, too.
This lover is unique because their relationship goes beyond the confines of casual hookup and friends – they are almost a little like Sid and Nancy. Chemistry. Natural (and dangerous) chemistry. Also, by the close of this book, this is the only lover that she did not meet online. (She met him through Nick.) And this is the only lover that has remained "steady."
Sensuality – It is definitely an erotic book but it's quite clear that the pieces of included erotica were meant to arouse specific people rather than general masses (mostly because of how they are written). It is also clear that while the book is filled with sensual content, it's not just a detailing of Juliet's crazy sex life, but a chronology of her sexual experiences and the emotional/personal growth she undergoes because of those experiences and the people involved. I will definitely say that Juliet has a wonderful sense of erotic imagination and I was delighted by her ingenuity. She seems to have knack for making even some of the most mundane situations sexy. Will you read some erotica in this book? Yes, but it won't shock or amaze you nearly as much as the stuff she writes before and after those pieces. Those are just icing to an already interesting cake.
Also, due to the journalistic feel of the prose, she records lots of her observations about each lover's specific preferences, about how universal the act of sex is, how emotion is the only real variance in her sexual relationships, and how she had certain expectations of what hot-wifing would be like and definitely met some challenges. For one, Juliet notes how awkward most of her lovers were during threesomes involving her husband. There are very few threesomes that went well or even relatively well. Most of the time, Juliet mentions being distracted by how "different" the men behaved when it was all of them versus just one on one.
The only one who really didn't seem to have much an issue most of the time was her husband, and I believe that has a lot to do with the fact that he's sexually mature and with that comes a certain confidence.
It is also very interesting to me that regardless of initially attempting to take on the role of "hot-wife" as being even more sexually empowered than she was, that's not how it happened. As I mentioned, Juliet seems to play "submissive" in her marriage bed. She started taking lovers but they were always sexually (and emotionally) dominant over her, with the exception of Chris (the lover she only kinda "liked" as a friend). It would seem that part of the appeal of hot-wifing is for the woman to be in absolutely control of her sexuality and the circumstances in which she shares it. But that simply wasn't how reality played out.
For one, her lovers were doing things like "cumming on her face", "fucking her face", etc. It was very strange to me because a lot of her short erotica pieces and naughty letters featured a Domantrix like personality that kind of dictated to her lovers what was going to happen. Rarely were they actual plans, though some of her lovers requested to act them out. A lot of the time, they were purely fantasies. Sometimes, they were recounts of actual events. (And in the very latter cases, she was usually submissive once more as she was recounting a reclaiming by her husband – save for one time where she "tended" her lovers.) I understand being a "slut". I understand wanting to be messed up by a guy, but it seemed like they weren't letting her be the kind of slut she wanted to be.
It was like Juliet furiously wanted to play "Dominant" in and, to some degree, out of the bedroom. She wanted to exert some kind of control of a given situation – but the men around her were, a) dealing with blows to their egos (in their own assorted ways), b) weren't really paying attention to her inner desires, and c) would instantly distract her from that pursuit and she'd get roped into playing taxi service or something else ridiculous. Very rarely was she really the star of the show even in her mind's eye. She was always more concerned for their pleasure than her own. It's like this woman is submissive to the very core of her person when it comes to handling relationships with men – right down to the way she lets them treat her.
I'm not exaggerating – she was constantly disrespected by the younger guys and she allowed it out of her selfish (and completely understandable desire) to continue her sexual relationships with them. It's like she openly admitted that was happening was making her upset and in the next sentence would glibly admit to going along with it anyways. At some point, you start to wonder what she's getting from these relationships with the exception of stress and orgasms. If orgasms was the point, why wouldn't she just go home and get them from her waiting and willing (and masterful) husband instead of playing silly games with boys?
Like I'm sure Patience, a waitress mentioned in the book, wasn't exactly hurting for male adoration. Juliet seemed almost desperate for male attention in a way that was a little self-destructive (emotionally speaking, anyways). However, she never comes off as pretentious.
Actually, the more I read about her, the more I wanted to be her friend (if only to smack her ass when she's about to make obscenely juvenile decisions for the sake of a pretty cock), because she was always immediately relatable. I too have been/and still am a version of that girl beneath all my sass – though I come in the "tease" variety. I understand that, regardless of sexual expressions, it comes from a deep insecurity and needing validation. And I feel like every person struggles with those root issues. Therefore, I understood Juliet- I liked her, and I found myself rooting for her.
Even when I didn't care for her lover (at the time), I was still rooting for him (whoever he was) to grow a pair and treat her like a lady. I wanted them to be better for her. Because this book makes you consider this woman your friend. That's how intimate her writing is, that is how painfully honest she is without bragging or showboating. It's actually quite refreshing.
Style and Mechanics – This is kind of where this book suffered. First of all, there is a typo on the back cover and the blurb ABSOLUTELY needs some work. Right now, it sounds like a Craigslist ad – not a back copy. Now, there aren't glaring typos all over the book, but it could definitely be proofread for grammar. For instance, there were paragraphs that were entire pages long. My gawd, I haven't seen something like that since Dickens and that idiot got paid by the word. Don't get me wrong, it's not a lengthy book but it needs to be shined up.
Also, there are definitely areas where the erotica is hard to read because of shoddy grammar. (I cringed at anything written in second person.) Finally, there are definitely a few places where description and narrative could (and perhaps, should be) elaborated to help with transitioning and clarity. Basically, this book is in need of a professional content/line editor. It's not the most atrocious thing I've ever seen, but it definitely makes the entire presentation seem amateurish. And that's not fair because the story itself probably has potential to make oodles of bucks (if packaged and sold properly.)
Cover Art – Goddamn it, hire a professional cover artist, Juliet's people. Her writing deserves it. I very much enjoyed the silhouetted type picture on the front but damn the coloring, the font, etc. It just needs to be overhauled to look cleaner and classier. Right now, it kind of looks like something I'd see laying on the coffee table in a rundown mechanic's garage. If we don't know who to hire, that's fine. I can help with that because goddamn.
Conclusion – You know when you start a book and you're not entirely committed to it – yeah, I didn't really have that problem with this book. Not at all. From page one, I was kind of…enveloped in this woman's world and experiences. There's something utterly…humble about her approach to everything, even her writing, which makes the entire story seem almost conversational in tone. It's an intimate look at what it's like to be a sexually exploring woman in the midst of a quiet (however rapidly progressing) sexual movement.
Someone told me that 2015 is Year of the Woman and gems like this book make me want to believe that's possible. I had some issues with this book, definitely. But regardless, I did respect it and what it means as an addition to women's progression in society. And frankly, I enjoyed the author's voice. I enjoyed that she was glib, intelligent (however passive she might behave), and her brutal (and unabashed) honesty is refreshing in a sea of literary erotica designed to shock and amaze rather than educate about the human experience.
The end of the book is a collection of reflections about each lover mentioned and how she felt like her husband was the real hero in all of this. (To deal with all that crazy – yeah, he kind of was.) I respected that she was able to realize that despite her best intentions, this experience turned out to be something vastly different from what she imagined. I respect that she admits how silly she behaved sometimes, but I also worry at what she thinks was silly. And finally, I really admire how positive she seems to be about the future and sincerely wish her the best.
Again, I find myself in the awkward position of knowing this author, so I've chosen not to give a rating (where I can get by without doing so) but I do want to say that, as a reader, if she puts out another book (like part two) – I would definitely read it. The story is good, the writing has potential, and I find her voice to be enthralling. I don't always agree with what is happening, but I'm always invested enough to turn the next page. And I feel like that – the authoring of this book – is a victory regardless of what happens. She's very brave, she's living her life, and she's inviting you to experience it with her – what more could you possibly ask for?
Sophie Avett